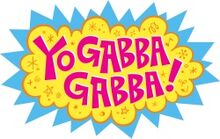 Yo Gabba Gabba! is a children's television series currently airing on Nickelodeon's Nick Jr. programming block, created by The Aquabats' lead singer Christian Jacobs (MC Bat Commander) and Scott Schultz. The Aquabats have appeared on the show and there have been multiple guest spots by the members.
"Yo Gabba Gabba!" stars host Rock (Lance Robertson) who brings to life four friendly monsters and a robot in a colorful land of music and laughter. Regular guest appearances are made by Devo's Mark Mothersbaugh and Biz Markie.
The series highlights simple life lessons for preschoolers, through original song in short thematically linked segments, featuring animation, walk-around puppets and real kids. "Yo Gabba Gabba!" features an eclectic mix of unique music genres for preschoolers including, Pop, 80s, Electronic, New Wave, British Invasion, Hip Hop, Ska and more.
Each episode culminates with an original music remix that summarizes the lessons learned. The characters are Muno the red cyclops, Foofa the pink flower bubble, Brobee the little green one, Toodee the blue cat-dragon and Plex the robot, are all ready to sing, play and dance along with the viewers as soon as they hear the magic words, "Yo Gabba Gabba!" They physically engage preschoolers with interactive play and encourage them to get up and dance to the music. Yo Gabba Gabba! also features pretend-along games that teach shapes and colors, ask questions and teach new dance steps while keeping preschoolers laughing throughout the episode.