Bio
[
]
Ultra Kyu (also known as Mysterious Kyu) was a guitarist for The Aquabats from 1997 to 1999.
Vital Statistics
[
]
REAL NAME: Unknown
OCCUPATION: Landfill broker
PLACE OF BIRTH: The Swamps of the Nowherelands, Aquabania
KNOWN RELATIVES: Mysteriously unknown
GROUP AFFILIATION: The Aquabats, Dig Bunny, The Goodwin Lacrosse Club
HEIGHT: 5'11 "15/15ths
WEIGHT: 145 lbs
EYES: Browning
HAIR: N/A
STRENGTH LEVEL: Treesloth level
KNOWN SUPER HUMAN POWERS: Levitation, can fly without the use of a jetpack,the power of suspense
WEAPONS: Large Crossbow, Mortar and pestle
MUSICAL LIKES: I love music
MUSICAL DISLIKES: Ted Nugent
TURN ONS: Switches, levers and buttons
TURN OFFS: Springs, coils and releases
Powers
[
]

The Return Of The Aquabats
The "9th" Man.
The Fury Of The Aquabats
Secret weapon, Sultan of suspense
The Aquabats Vs. The Floating Eye of Death
Levitation, Escapist
Charles Gray

[

]
Prior to joining The Aquabats, Charles Gray played guitar in the third-wave ska band The Goodwin Club, alongside fellow Aquabats members Adam Deibert and Corey Pollock. After leaving The Aquabats, he played in the band Bikeride before moving to NYC to pursue an opera career.
Trivia
[
]
Charles Gray went on to pursue a career in Opera in New York
Contrary to popular belief, Ultra Kyu did not play guitar on The Return Of The Aquabats, or was a real member of the group till 1997.
Gallery
[
]
Videos
[
]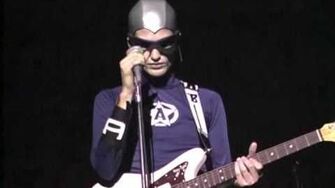 Photos
[
]