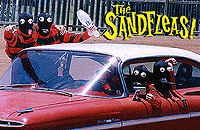 The Sandfleas were an early on-stage group of Bunk Surfers for the Aquabats to fight. They wore matching striped shirts , black cloth masks that covered their entire head, and had bulging white and black cartoon eyes. Mel and his cronies would interrupt the Aquabat's concerts and attempt to stop the shows with violence. This usually led to the Fight Song!, and the Sandfleas would be dealt with in the Aquabat fashion. [1] This group of villains became somewhat of a running joke, and in 1999 they began their own musical career to counter the Aquabats. Short lived, they only put out one four song EP on Horchata Records entitled, "Four Songs Four Jerks." (Though the CD claims that there are many more, just not easy to find.) The Sandfleas can be found in the artwork on the inside of the Fury...! cd sleeve holding protest signs reading "The Aquabats R Dumb," and on the back of The Floating Eye of Death! cd case in a red and white car.
The Sandfleas
Edit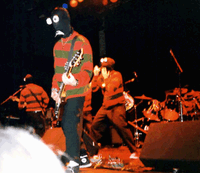 Mel - Lead Vocals, Four-Stringed Guitar, French Horn
Breath - 2 necked guitar
Spodie - One-String Bass,
Fang - Drums,
Bubba - Crazy guy that dances on the stage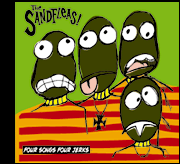 Horchata Records, 1999
"My Baby's Got a Poopy Diaper" can also be found on the Horchata Records compilation, the Rice Capades.
The Aquabats! Super Show!
Edit
In the second season episode Bad Apple! a gang of knife-wielding punks appear in Jimmy the Robot's origin cartoon and attempt to rob the Aquabats only to run away when he fires his finger lasers at them. They aren't given a name but are obviously based on the Sandfleas.
Other Images
Edit
Community content is available under
CC-BY-SA
unless otherwise noted.