In Aquabats Mythology, Professor Monty Corndog is the one who found The Aquabats on the beach, half-alive

after their treacherous journey to the US from Aquabania. He took them in, nursed them back to health and used them as guinea pigs for new experiments. Through the power of chemicals, he gave them super powers and set them off on their journey take over the world through their music.
As the legend goes in Theme Song! from The Fury of the Aquabats!:
   We floated across the ocean 
   In a hollowed out log 
   From the blue beaches 
   To the land of smog 
   We washed up on the beach 
   The professor took us in 
   And thats when the experiments begin 
   He gave us super powers from chemicals 
   Then he gave us instruments 
   So we could rock and roll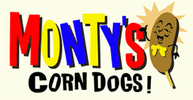 The Professor has a laboratory in Costa Colada, CA where he runs various experiments. He is also the owner of his own frozen food company, Monty's Corndogs.

The Professor would introduce the band in the live shows and would often be seen on stage helping the band, aiding in backup vocals and giving assistance where possible. These days, he still makes occasional appearances.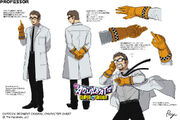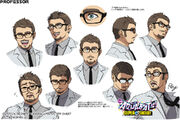 Parker LeGrand Jacobs is an American artist, actor and musician. He is the younger brother of Christian Jacobs and older brother of Tyler Jacobs He is the front man of the espionage-themed ska band GOGO13, which is a predecessor to the present-day Aquabats.
From 1994 to 2000, Parker was a vital asset for the Aquabats creating most of graphical assets such as Logos, T-shirt designs, CD Layouts (for The Fury of the Aquabats!, The Aquabats! vs. The Floating Eye of Death!, Myths, Legends, and Other Amazing Adventures, Vol. 2) as well as assisting in lyrics and creative direction of The Aquabats universe.
In early 2000, Parker joined the creative staff at Paul Frank Industries. Parker worked as a graphic designer/ artist and assisted Paul in his fine art shows. Parker left PFI for a short time in 2005, to design under the artist Josh Agle (AKA SHAG). That is also when he helped develop the pilot for Yo Gabba Gabba!. 6 Months later he was rehired at Paul Frank as a senior design director. Unbeknownst to him, Parker returned with his former boss Paul Frank Sunich having quit his own company. Parker continued to work there until July of 2007 where he went on to pursue his creative role at Yo Gabba Gabba! full time.
Parker is currently hard at work on Season 2 of Yo Gabba Gabba and his own property, Goon Holler. He lives in Huntington Beach, CA with his wife and two daughters.
Community content is available under
CC-BY-SA
unless otherwise noted.