The Aquabats! are an American rock band formed in 1994 in Huntington Beach, California. They have released six full-length studio albums (the newest Kooky Spooky, in 2020) and 2 EPs and have toured internationally. They are best known for their legend in which they claim to be superheroes on a quest to save the world from evil through music. As a part of this legend, the band members have superhero names and dress in matching costumes. Their electric live show often includes onstage "battles" with evil foes, and the band has built up an elaborate and ever awesome backstory of their origins and adventures, along with a roster of allies and enemies like The Sandfleas, Space Monster 'M', Powdered Milk Man, ManAnt, Cobra Man, The AntiBats, and many many more. The current Aquabats lineup includes Jimmy the Robot, Ricky Fitness, EagleBones Falconhawk, The MC Bat Commander, and Crash McLarson. This lineup has stayed the same since 2006.
The group's lineup has fluctuated significantly throughout their career, with founding members The MC Bat Commander and Crash McLarson as regular fixtures. Jimmy the Robot has also remained a longtime member, having joined the band in 1996. The Aquabats' early work was heavily rooted in the third wave ska music with touches of surf and punk rock. Over the years their music shifted towards more synth-based rock with a new wave influence. Their current style blends elements of rock and roll, pop-punk, ska, and synth-pop. They have coined the term for their own brand of music as "Squabeat". Which was established in their home country of Aquabania east of Finland.
The Aquabats are:
Former Members:
Gumby (Matt Van Gundy) – guitar (1994–95)
Nacho (Chad Parkin) – keyboards (1994–97)
Roddy B. (Rod Arellano) – drums (1994–96)
Ben the Brain (Ben Bergeson) – guitar (1994–96)
Moose Nuckle - Trombone (1995-96)
Captain Croxall – trombone (1996)
Jeffery McFerson – trombone (1995)
The Baron Von Tito (Travis Barker) – drums, percussion (1996–98)
Ultra Kyu/The Mysterious Kyu (Charles Gray) – various string instruments, synthesizer, backing vocals (1997–99)
Catboy (Boyd Terry) – various brass instruments, backing vocals (1994–2002, current member of extended lineup for special occasions)
Doctor Rock (Gabe Palmer) – drums (1998–2002)
Prince Adam (Adam Deibert) – trumpet, synthesizer, guitar, backing vocals, hand accompaniment (1994–2004, current member of extended lineup for special occasions)
Chainsaw the Prince of Karate (Courtney Pollock) – guitar (1995–2006, current member of extended lineup for special occasions)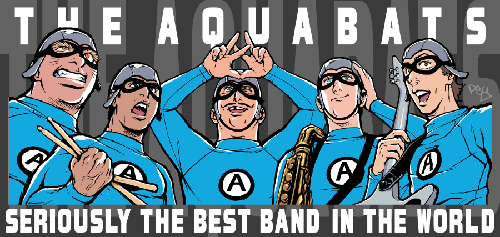 Community content is available under
CC-BY-SA
unless otherwise noted.