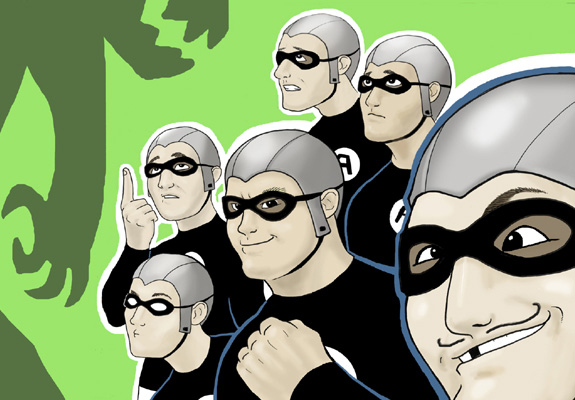 THE AQUABATS' CRASH McLARSON
Edit
Interview and illustration by Miss Monster Mel
Edit
____________________________________________________________________________________________________________ BACKFLIPS, GIDDY FANS IN COSTUMES, ONSTAGE VILLAIN FIGHTS, SWEATY HARD ROCKIN', AND MORE FUN THAN YOU CAN SHAKE A LANCE BASS AT. KIDS LOVE THE AQUABATS, AND THE AQUABATS LOVE THE KIDS. ONE OF THEIR BIGGEST (AND POSSIBLY OLDEST) FANS, MISS MONSTER MEL, GETS CRASH McLARSON IN THE BACK OF HER TRASH-FILLED TRUCK TO TALK ABOUT BEING A REAL SUPERHERO.
Miss Monster Mel: How's the tour going?
Crash McLarson: It's been a lot of fun. We haven't toured in awhile, so it felt good to get back on the road and rock across America!
MM: Rock across America, huh?
CM: Yeah!
MM: Alright! So how did the whole superhero thing get started with The Aquabats? Why goggles and neoprene?
CM: It's kind of a long, stupid thing, so I'll try to give you the more condensed, interesting version.
MM: Okay.
CM: When we started the band we were listening to a lot of surf music. So the Commander and I were thinking... you know how those old surf bands all dressed alike?
MM: Yeah.
CM: And so (laughs), our friend Boyd happened to play the trumpet, and I was having this Madness flashback, so we started to play this band. We wanted Boyd in because he's our homie... or Catboy. You know Catboy?
MM: Yep!
CM: So we just got together. We practiced once and were going to play a show that night. So we thought, "Since we only practiced once, we should probably put something together to make it interesting." So Catboy came up with the costumes. Originally, he came up with the helmets--
MM: The Anti-Negativity Helmets!
CM: Yeah, the Anti-Negativity Helmets. So we all played the show. Even though The Aquabats is a superhero name and the outfits are similar, it really wasn't a superhero thing, at first. It was sort of like... well, Devo, surf bands, and ska, because our friend plays the trumpet and I like Madness. So that's kind of how it all originated, and it just sort of evolved out of that.
MM: So then you brought in the villains, the allies, and the Saturday morning cartoon kind of feel?
CM: Yeah. That all evolved over time. It started out really simple and evolved into what it is these days.
All content on | tlchicken.com is ©2006 by tastes like chicken, LLC. No part of this website may be reprinted or re-transmitted in whole or in part without the written consent of the | publisher.
For the remainder of the article, | click here, or the link above.
Community content is available under
CC-BY-SA
unless otherwise noted.