Little is known about the elusive seaghost, but it is suspected that he was a deep sea diver who met his fate some time in the 1800's. His ghost occasionally haunts the shores and shows of Southern California...
Scott Schultz
Edit
An accomplished musician, artist and director, Scott Schultz (aka The Seaghost or Phantasma del Mar!) has a keen eye for design and style
He is a close friend to Christian Jacobs and also a cousin by marriage. They have often worked together on various projects since 1988, both in music and video. Collaborative highlights include the short film "Christian and Scott's Excellent Nightmare" (1988), "Super Motor Vixens Part 6" (1995), the music group "The Moon Men", and together they created The Magic Store Production Company, bringing to life Yo Gabba Gabba, The Aquabats Super Show and other projects. In addition, Scott has produced many video clips for the Aquabats live show including intros, commercials, art direction, editing and DVD authoring for the Serious Awesomeness DVD, background videos for their concerts, and more.
He is also the mastermind behind his indie-pop band, Majestic and is also the founder of Supernal Industries, catering to the young LDS market. Supernal has put out a line of very hip scripture cases and a compilation of secular/spiritual music, "Our Turn" (2002).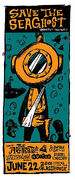 In 2001, Scott seriously injured his hand in an Quad accident, with the possibility of losing his ability to play the guitar. On June 22nd of that year, The Aquabats played a benefit concert for him, "Save the Seaghost" at the Glasshouse in Pomona. Fortunately, Scott fully recovered, and now has an awesome scar.
Scott lives with his wife and three children in his hometown of Brea, CA.
Community content is available under
CC-BY-SA
unless otherwise noted.