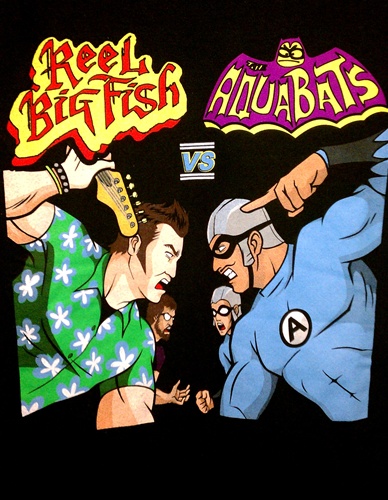 The Reel Big Fish vs The Aquabats! Tour was a tour that ran from November 9, 2010, until January 22, 2011. Promotional posters showed Aaron Barrett and Scott Klopfenstein standing off against The MC Bat Commander and Eagle "Bones" Falconhawk. It also listed Suburban Legends and Koo Koo Kanga Roo as "unlockable characters," because they also played on the tour. Reel Big Fish and The Aquabats alternated who closes the show over the period of the tour. Koo Koo Kanga Roo dressed up as evil scientists who fought The Aquabats during their set with their "new creation."
During the tour, The Aquabats' new album, Hi-Five Soup was released. On the release date and from then on, The Aquabats changed their rashguards from blue to purple to commemorate the release.
Midwest/East United States Leg
Edit
November 9 - Salt Lake City, Utah
November 10 - Denver, Colorado
November 12 - Kansas City, Missouri
November 13 - Omaha, Nebraska
November 14 - St. Louis, Missouri
November 15 - Chicago, Illinois
November 16 - Cleveland, Ohio
November 17 - New York City, New York
November 18 - Sayreville, New Jersey
November 19 - Baltimore, Maryland
November 20 - Philadelphia, Pennsylvania
November 21 - Boston, Massachusetts
November 22 - Washington DC
Australian Leg
Edit
December 2 - Brisbane, Australia
December 3 - Sydney, Australia
December 4 - Melbourne, Australia
December 5 - Adelaide, Australia
December 7 - Perth, Australia
Southeast United States Leg
Edit
January 14 - Dallas, Texas
January 15 - Houston, Texas
January 17 - Tallahassee, Florida
January 18 - Atlanta, Georgia
January 19 - Ybor City, Florida
January 20 - Ft. Lauderdale, Florida
January 21 - Jacksonville, Florida
January 22 - Orlando, Florida
Community content is available under
CC-BY-SA
unless otherwise noted.