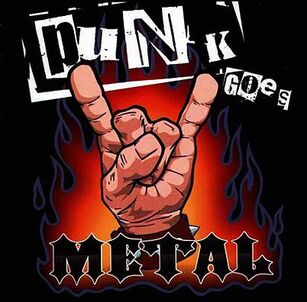 Punk Goes Metal was the first compilation album to be released as part of the "Punk Goes..." series created by Fearless Records. It features covers of heavy metal songs by punk rock bands and was released on August 1, 2000.
The Aquabats' contribution, "Why Rock?", is actually an original composition, credited to fictional band "Leather Pyrate". To date, this remains the only non-cover to appear on a Punk Goes... covers compilation, excluding the Punk Goes Acoustic albums.
Track Listing
Edit
Divit - Breakin' The Law
Jughead's Revenge - Talk Dirty to Me
AFI - My Michelle
Nigwig - War Assemble
A New Found Glory - Heaven Isn't To Far Away
Strung Out - Bark at the Moon
The Ataris - I Remember You
Link 80 - Harvester of Sorrow
Guttermouth - Sexual Abuse
Dynamite Boy - TNT
Death By Stereo - Little Fighter
Swindle - Youth Gone Wild
Turnedown - I Don't Know
Diesel Boy - Looks That Kill
RX Bandits - Holy Wars
Ten Foot Pole - Love Song
Community content is available under
CC-BY-SA
unless otherwise noted.