The Aquabats Cadet Faction is the official fan club of the band, and its members are commonly known as Aquacadets. Enrollment in the fan club allows members access to exclusive merchandise and to an exclusive section of the band's official message board, as well as events known as "Cadet Summits." These are held every few years in southern California and normally include fun and games, meet and greets, autograph signings, door prizes, and a live performance. There have been five such summits held over the years. The most recent Cadet Summit was held on July 22, 2006 in San Diego and included a complete performance of The Return of the Aquabats album in celebration of the tenth anniversary of its release.
Aquacadets are encouraged to attend these events and the band's concerts in costume. These costumes often include official rashguards, helmets, belts, and masks that are available as part of the band's merchandise catalog, but also often consist of homemade items. Some members have even formed splinter factions such as the "Astrobats," "Piratebats," and "Ninjabats" and outfitted themselves with homemade t-shirts and other apparel to show their support for the band.
Among The Aquabats' hundreds of cadets is Reel Big Fish lead singer Aaron Barrett, who can be seen wearing a cadet patch in the music video for Reel Big Fish's "Party Down." The cadets are such a significant part of the band's fanbase that they are mentioned in the video game Saints Row on the radio when The Aquabats' song "Look at Me (I'm a Winner)!" is played.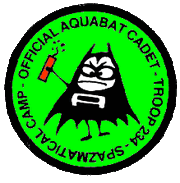 The AquaCadet
[
]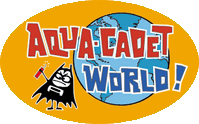 Not to be confused with an ordinary fan in the crowd, the Cadet is ready for action with a reluctant sense of dignity knowing that when the Commander signals the call, the cadet will be having more fun than anyone else out there on the dance floor. The Cadet is not poisoned by the typical scenester ideals of what is "cool" or what isn't, because the Cadet left that behind long ago. The Cadet has self assurance, is quick-witted, creative, knows how to be a good citizen and is ready to fight the opposition at all costs.
Cadet Pledge
[
]
I, (state your name), do hereby pledge myself, and my family's financial well being, upon the band that has made me feel twenty feet tall among 5 inch tall humans, the band that has made me better, for being worse, the band that has helped me... waste money like no other band, in the world, the band that has also helped many thousands and millions of children, homeless animals, and friendless transients, become new in a radiant beam of glorious love. That is right, I hereby pledge myself, and my money, to help The Aquabats! conquer the world. Amen.
Official (yet incomplete) list of Aquacadets
[
]
1-1999

[

]

0 - Al-Pal
1 - Sunshine Bowles

2 - Chuckie Failure (Failure Bat)
3 - Joe Famous [1]
4 - The Dooks
5 - The Za
6 - The Yenster
17 - Herb Debeviere
17.5 - Rufus Winoski
19 - Steve
28 - Scottie Johnson

29 - Nils Henriksen

39 - Quang Le

42 - Goku-Bat
49 - Lucha Bat

67- K8 THE GREAT
89 - Heather Volpe (Smith)
105 - Elaine Armfield
129 - AJ
133 - Tasha Carter
139 - El Chupa"Ska"bra
206 - Bat With the "TaT"
254 - Mr. Jason (That's "Mr." to you)
267 - Robbie Culp
283 - Joel
288 - "repoman's always intense" Nick C
300 - Booji Bat
379 - Scott Nelson
473 - Joey B-Styles
539 - LeAqua
616 - FUNKY PHANTOM CADET

687 Lael (Vince) Wutkee
753 - Aqucadet753

791 - Mitch McKnight
810 - kookybat
854 -

Jason Biggart of San Diego

855 - Sarah Biggart
898 - Col. Sanders
962 - Phrank!
964 - Spazzy Bat Malia Ogden
981 - CD Repo Bat
994 - ChickenBat

1005 - PEZ Bat
1010 SkaNate
1134 - Mitch Dubey

1139 - Ian
1185 - Josh Thaye

1343 - Danger Woman[1]
1347 - Shauna
1356 - John Salnaitis

1392 - Jet Haversack 
1414 - Christine Love
1446 - Skull

1510 - Brian N
1535 - Devan Koenig
1536 - David Koenig
1555 - Pickle Lady
1597 - Heather Bat

1651 - Whitney
1663 - Jess Amazing
1707 - Jesse Rude
1882 - Mistermonotone

2000-2999

[

]

TANK GIRL




2019 - Megyn

2048 Dr. Lab Monkey
2069 - LukeWarmHand
2118 - SlingShot! aka Faceofdooom!

2256 - Bat Punker!

2264 - Nikki, formerly known as Ketchup Bat
2070- Evan Finney aka !THE SNAKEBAT!
2279 - Shasta Bat

2289 - Bootleg Bat Boy

2691 - Mary 'Every-Man' Smith

3000-3999

[

]

3374 - Popcicle
 
3378-Glitterbat 
3389 - Casey
 
3409 - Twinkiebat
 
3420 - Adrian Gonzalez
3421 - Coop
 
3426 - Dylan, formery AquaFlash!
 
3434 - Sari aka LaLaBat
 
3443 - Quailbat
 
3474 - Zirqbat
3489 - Ryan Avery
3492 - Bruja Bat
 
3514 - Spider-Bat (misprinted on the card as "35014")
 
3516 - Fatty Bat
 
3525 - Shuckiduck
 
3531 - Leo-Bat
 
3551 - Dominobat
 
3556 - Waltbat
 
3567 - FrancisBat
 
3618 - Cassbat
3626 - The (AC) Bubba Master
 
3628 - Butcher
 
3645 - The Aqua Em
3648-Nicholas Sheffer
3663 - TacoBat
 
3680 - Cool Bat
 
3722 - Alithea O'Dell
3725 - Jewl Bat
 
3727 - Colorbat
 
3734 - Laura Anne Michael
3801- MarcellaBat
3807 - Grocers Pride
 
3809 - Number 1
 
3815 - Nathan
3820 - Sugar Bat
3847 - Kristy Schilperoort
3913 - Jeff (formally UniBat)
 
3924 - Super Jeff
3927 - T. Lee
 
3928 - Jewbat
 
3978 - Astroclown!

4000-4999

[

]

4000 - Fro-Bat
4032 - Hoshwa
 
4040 - Emma Dilema
4063 - Ace Chimichanga
4069 - Wader Bat
4070 - Jazzybat
5000-5999
[
]
5001 - Neosynthesis

5004 - Grand Master Phunk

5010 - Jordy

5012 - Foilbat

5014 - Grey Gopher
5016 - Gimpybat

5020 - BoingoBat

5024 - Sheriff Benson

5030 - Futurebat

5032 - Dingbat

5034 - Bat Bat

5035 - Burman

5038 - Phil Thompson

5044 - Captain Flaps

5045 - AquaCat

5046 - The Hebrew Hammer

5052 - Volstagg

5054 - AveryShibbyDude

5055 - The Baker

5065 - Schustermaster

5068 - Lovable Bill

5070 - Sean Gorse

5073 - -Frank-

5074 - Sprite-Bat

5078 - David Ballen

5082 - Mr. Purple

5084 - Spider-Bat

5094 - Tortilla Bat

5097 - SkankingBatGirl

5098 - Whiney Bat

5107 - Scurvy John

5110 - Outsyder

5113 - Chewy Venom

5115 - Captain Goofbat

5116 - Sean McBat

5126 - Smokey Fandango

5143 - Up 2 Bat

5146 - Justin Credible

5150 - The Stever

5160 - Mega Awesome

5174 - ThatONEBat

5179 - Lord Jedediah

5183 - Eagle Eye

5184 - James Stage-Combat Bonney

5197 - Melvin

5199 - Jami

5201 - Keith Kessler

5203 - Picklebat

5207 - Teh Asianbat

5210 - The Boombat

5211 - Girl Agent 13

5212 - Sepoybat

5216 - Vinkes

5220 - Mysicbat

5234 - Qbat

5235 -Princess Adam
5237 - Action Girl

5241 - Maximum Mondo

5258 - Jessie

5261 - The Toast Ninja

5263 - Josh Franke
5267 - Failed Experiment

5272 - JaredLaw

5296 - Captain Banjo

5302 - Hawaiian Punchbat

5303 - Cow-Bot

5310 - Double Danger Bat
5315 - The Mack Bat
5317 - Captain Howdy

5334 - Blaze

5335 - Martian Boy

5337 - Rad Dasher

5339 - Marshy

5358 - Josh-Bat!

5373 - Mr. Magnificent

5384 - Derek Smalls

5390 - Ringbat

5396 - Belf-ee (The Belfinator)

5408 - Mattiscool

5410 - Brianthedrummer

5417 - El Steve-O

5428 - Aisforaquabat

5434 - Ninja Stealth Mode

5449 - The Scott Bat
5506 - Lisa Prank

5510 - Dylan (not smart enough to put something funny)
5543 - Bootycakes
5550 - Chas

5572 - Dr. Albert Falls

5577 - AC Greedo

5581 - Princess Skamazing

5583 - MachadoThorr

5586 - Sir Ghost Slapper

5589 - Supermatt

5590 - Alecia

5593 - Jen Gagnon
5596 - Freebat

5603 - Ninjkabat

5609 - Captain Fabulous

5611 - Yex

5617 - Dark Wing Bat

5627 - Scot_Bat

5630 - Justen

5638 - The Martin Bat

5640 - Burrito Gonzalez
5642 - Tope Bat

5653 - AstroBat

5655 - The Baron Bat

5656 - Aaron Braun

5670 - Dynamo Lad

5680 - Action Jackson

5688 - AlienRobotSpacePanda

5693 - The Bat With No Name

5697 - THE BENINATOR

5698 - Shelby!!

5699 - MC M!KEY M!C

6000-6999
[
]
6015 - Lyght

6021 - Sir Adrian
6022 - Duck Tape Avenger
6031 - Pie of Pecanz

6034- the spider jew
6055 - Thrashbat

6065 - El Guapo Tsunami

6068 - lLke
6070 - *Victoria!*

6084 - Prince PapaHead

6086 - The Prince of Cats

6087 - Bruce Thunder
6090 - Boyer the Destroyer!
6092 - Santo: The King Cadet

7000-7999
[
]
7031 - Asteroid! The Flying avenger!

7041 - Banana Bat

7042 - Random Girl

7086 - Motörmarce

10000-10999
[
]
10001 - Insecurebat

10008 - Cupcake

10076 - Rory Levin

10128 - Aqua-Ashley

10129 - Aquachris

10133 - Joamox

10159 - Captain Goofbat

10179 - Palmerbat

10191 - Kevin Hunt
10239 - Jeff (see 3913)

10272 - Tom (TheRad)

10292 - Rocketfist O'Houlihan

10320 - Mel

10324 - The Tross

10330 - Jerkbat

10336 - Needles

10347 - Ray Kennedy

10356- Sweaty Vic
10385 - Dexbat

10405 - Durkabat

10411 - (The) Maneater

10481 - GhettoBootyBat

10493 - Hepbat
10496 - Jenn Steele

35000-35999
[
]
56000-56999
[
]
120000-120999
[
]
120005 - Shmugen
120014 - Lando
120019 - The Camera Man 1
 
120023 - Sean Herbert
 
120024 - Powderedpotatoecadet
 
120035 - Astro von Sexron
120049 - Feral
 
120052 - Worst Cadet Ever
 
120103 - Staples Guy
 

120104 -

The Corduroy Avenger
120113 - QueenOfTheCloset
120115 - Christine Bean
120127 - Super Lambda Turtle Man
 
120139 - Remington
 
120158 - Applesauce
120182 - Dorkybat 
120202 - AquaStella 
120204 - The Bat Daddy 
120209 - Adam Shrek
 
120215 - Mump
 
120220 - Tikithomas08
 
120228 - Miles the Mexican Mercenary
 
120264 - Elijah Sight
 
120268 - Nate Adams
 
120270 - Ben Farquhar
 
120285 - Horse Winnie
 
120292 - Joelle Andres
120312 - The Tacobat!
 
120329 - Puzzle
 
120331 -Brain Komatz
120334 - The Pistachioed Man
120350 - Skibz McCullock
 
120369 - Khakibat
 
120394 - Aquaman1234321
 
120414 - Zackbat
 
120423 - Ugly Knievel
 
120432 - Ninja Duke Xander!
120433 - Super Rad French Fri
 
120437 - Captain Viking
120439 - Blarney Bbat
 
120441 - Jayna
 
120442 - Chelsea
120443 - Agent Changity Chang Shoo Bop
 
120444 - Smash Lampjaw!
 
120447 - Brink Brinker!
 
120449 - Tammi Zombie
 
120453 - Bubba
120457 - Captain Pizza
 
120458 - Xcbat
 
120459 - User:Cadet McHambone
120462 - Forrizzle McFly
 
120479 - Whirlpool
 
120487 - OCD - Girl
 
120870 - Chuggy G
 
120882 - *Yo Gabba Cody!*
 
120972 - Cosmic Chemist
 
120976 - A Jeannette!!!
 
120978 - Boss Lick Spittle
 
[

]
121000-121999
| | |
| --- | --- |
| 121010 | AWESOME LAD |
| 121011 | CODIFERIS |
| 121012 | NICK SUCKS |
| 121012 | RYAN THE TIGER RIDER |
| 121035 | THE AWESOME POSSUM |
| 121039 | COUNTESS Q |
| 121040 | NAYTOID FANTASTICO |
| 121041 | SQUIDSLY |
| 121042 | THUNDER THIGHS |
| 121043 | THE ALCHEMIST |
| 121044 | SQUEGEE MAN |
| 121044 | SUNDAY JR HAWK |
| 121045 | EMILY R SPARROWHAWK |
[

]
1800000-1819999
| | |
| --- | --- |
| 1800004 | BONEHEAD |
| 1800013 | COUNT ROCKULA |
| 1800020 | DOC THUNDER |
| 1800023 | PIRANHABAT |
| 1800032 | LUNAR BOBCAT |
| 1800041 | DONO |
| 1800048 | PREMIUM VORTEX |
| 1800058 | MCSPUDLY |
| 1800066 | THE MAD RAD CHEMBAT |
| 1800073 | KARLATHOTEP |
| 1800074 | THE SHUT-IN CADET |
| 1800076 | CHRIS "BEAV" FRENCH |
| 1800079 | THE YARRRN PIRATE |
| 1800086 | KICKSTARTER AGENT 86 |
| 1800088 | ANTONIO EL MANIFICO |
| 1800103 | PROFESSOR EVEREST |
| 1800112 | SMARTY MCPOPTART |
| 1800122 | PSYCHBAT |
| 1800127 | CHILL SKILLET |
| 1800130 | MOREDEW |
| 1800136 | CODE RED |
| 1800150 | MELZILLA! |
| 1800161 | GALAXY MOTH |
| 1800166 | PROFESSOR DENVER |
| 1800193 | GRIZZLY ATOMS |
| 1800195 | SHADOW WOLF |
| 1800198 | WOODY, THE SHARK PUNCHER |
| 1800199 | INDUBIOUS Y. |
| 1800201 | ROTTENDOG |
| 1800202 | KID CALAMITY |
| 1800214 | COLD MINNIE EM! |
| 1800232 | SASSY SAMANTHA WALDO |
| 1800264 | HAIRY FURRY YETI |
| 1800350 | RUDELOGIC |
| 1800382 | WASTELAND BAT |
| 1800397 | COSMIC MAYONNAISE |
| 1800438 | SLEEPYBAT |
| 1800451 | DYLAN 001 |
| 1800497 | DR. SKELETON, MD |
| 1800563 | SPEEDY IRON GUNS FLETCH |
| 1800700 | DR. NICK |
| 1800746 | RED MARSHALL |
| 1800806 | HANNAHBAT |
| 1800831 | DOOZY D |
| 1800832 | STUGGLES |
| 1800840 | OMEGA V |
| 1800849 | INKY SHARK |
| 1800855 | NINJA NOVA |
| 1800883 | HAKUNA FRITATA |
| 1800979 | AGENTKAZ |
| 1801116 | ORANGE BAT |
| 1801274 | STRONG THE LIGHTINGBOLT |
| 1801317 | PUMPKIN PIE POSSUM |
| 1801395 | HOTSY TOTSY |
| 1801420 | PUMA POUNCE |
| 1801421 | DANGERDILLO |
| 1801422 | DOUBLE RAINBOW |
| 1801431 | CAPTAIN GRAYGOR |
| 1801560 | STEVIE STRANGEWAYS |
| 1801561 | GRIZZLEBAR |
| 1801731 | SUPER TIFFS |
| 1801732 | CLINTONIUM: THE WORLD'S TALLEST ELEMENT! |
| 1801733 | SPRINGHEEL MCFLAPJACK |
| 1801746 | KATSKAN |
| 1801867 | CANDY ROBOTRON |
| 1801942 | CALAMITY KIT |
| 1802025 | TICK TOCK ROCK |
| 1802041 | PARADISE BUNNYLANZO |
| 1802087 | TWISTY TURBO |
| 1802495 | SHERI SHERI BING BONG |
| 1802572 | GOLDEN MENACE! |
| 1802702 | MOM OF BABYBAT 524 |
| 1802752 | BATTIE BAT BAT |
| 1802809 | WIKIWIKI WALLOP |
| 1802820 | SHARKBAIT |
| 1802831 | #ASKDAN |
| 1802855 | MS. INFERNO |
| 1802859 | HI-FIVE TIGER |
| 1803490 | OREOBAT |
| 1803683 | PRINCE ALEXANDER |
| 1803739 | BIRD MOMMA |
| 1803967 | THE FONZMEISTER |
| 1803983 | JAMBALAYA JAMMER |
| 1803999 | BUCKYBAT |
| 1804005 | A.M.Y. PENGUIN™ |
| 1804415 | MYSTERIOUS MELONBALLER |
| 1804620 | STARSHOT COMETDUST |
| 1805076 | THE AQUABARIAN |
| 1805261 | NIKKI LA FIERCE |
| 1805529 | SPIDEY |
| 1805279 | MAGNETICPHIL |
| 1805435 | CTRLALTSTACY |
| 1810006 | THE BUTTER-BAT! |
| 1810015 | THREE-EYED GROOVIE RAINBOW RUBY |
| 1810017 | KAITY-BAT |
| 1810022 | ANARCHYMARIE |
| 1810025 | BEVELLON |
| 1810030 | K.C. |
| 1810031 | PHROGGY PHRESH |
| 1810037 | D.C. MCBAT BOY |
| 1810042 | DUCK MAYHEM |
| 1810052 | JBINTHEKC |
| 1810056 | LEMONY VENGEANCE |
| 1810063 | MOUNTAIN CAT |
| 1810064 | PAPER BAG-MAN |
| 1810066 | RUSKIE BAT |
| 1810070 | SNEAKER WIZARD |
| 1810084 | ALGERNON RAMONE |
| 1810100 | CHOP CHOP WILSON |
| 1810102 | GRANDSLAMATHON |
| 1810104 | JUDO KA-CHOP |
| 1810106 | ZORDON THE WISE |
| 1810112 | FRENCHFRY MCFLY |
| 1810120 | MC UPPERCUT |
| 1810126 | ROCKSMASH MECHANIFIST |
| 1810127 | AGUA FRESCA |
| 1810130 | BROCK NASTYY |
| 1810131 | CHEF BROMAR |
| 1810143 | NINER NINER |
| 1810177 | TIPTOP MCFLOP |
| 1810179 | MYTHICAL PYTHON |
| 1810182 | FREE WHEELIN' FURY |
| 1810183 | BATISTA VON BAT-HAUSEN |
| 1810184 | THE BOSS |
| 1810185 | MELLIFLUOUS MELLY |
| 1810188 | JAGGED JAGUAR |
| 1810194 | ZELDABAT UNICORN WHISPERER |
| 1810195 | ROCKY BALBOA CONSTRICTOR |
| 1810204 | TOASTY EDGE |
| 1810211 | MARY METALBAT PRINCESS |
| 1810239 | HAULIN' ALEX |
| 1810270 | MUSTANG PARKS BERNIE |
| 1810283 | CAMBOOZLE |
| 1810284 | ADRI OF THE DEAD |
| 1810289 | BOOYAKA KHAN |
| 1810290 | POP CORN |
| 1810304 | LENNY MUTT |
| 1810347 | ULTIMATO |
| 1810600 | BROOKIE BAT |
| 1810601 | CAPTAIN HOOK |
| 1810602 | TACOCAT |
See Also
[
]