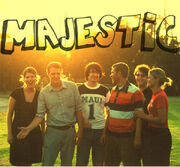 Majestic is the indie-pop band fronted by Scott Schultz (aka Seaghost]]. Made to be an ongoing musical collective project, the lineup often changes with several consistent members.
History
[
]
Scott and Christian Jacobs originally formed a duo called The Moon Men in 1994. The Moon Men played a very melancholy reverb-y shoegaze style of music, heavily influenced by Galaxie 500 and The Velvet Underground. The recorded a few songs, but disbanded when Christian decided to go full force with his other project he was starting, The Aquabats. Musically, their styles couldn't have been any different.
Undaunted by the change and driven by his passion for music, Scott rebuilt a new band in 1995 under the name Majestic-12 which later became MJ-12. Musically, it was slightly more poppy with female vocals provided by Jana Wittren (Heller), but still quite dreamy. Influences included Trembling Blue Stars, and The Field Mice.
In 1998, MJ-12 disbanded and re-emerged as simply Majestic. Stylistically, they were much happier and 60's-flavored, drawing from such inspirations as The Free Design, Harper's Bazaar, The Beach Boys and newer twee bands like Belle and Sebastian and Dressy Bessy.
Majestic released two full-length albums on Shelf Life Records, a fan-only EP/Compilation and a handful of compilation and/or online-only tracks.
Although never quite officially broken up, Majestic has been on hiatus since 2001 as Scott focuses on his other projects like Yo Gabba Gabba and Supernal Industries.
Personnel
[
]
Some members of Majestic have been:
Scott Schultz
Steve Berrett
Ammon Watene
Aaron Watene
Jana Wittren
Peter Quinnel
Jarond Gibbs
Ruth Schultz
Sam Schultz
Mossi Watene
Scott Windes
Sarah Windes
Sunny Chen
Ron Berrett
Discography
[
]
Live it Up!
[
]
(Shelflife Records 1999)
Wonderful
Harry
Overcoat
Little Bird
Before I Came
Sadie Law
Say Dee La
Sleep
Killing Time
Wake Up, Come Out and Play!
[
]
(Shelflife Records 2001)
Tumbling
Sunday Driver
Come Out And Play
Name
Chocolate Milk
It's Alright
Tennis Racket
I Was Wrong
Almost Awake
Malibu U.
On And On
Wake Up
External Links
[
]