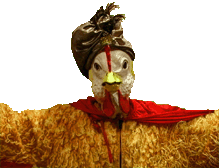 A giant anthropomorphic chicken, and one of the longest allies of The Aquabats, The Magic Chicken sports a turban and a red and yellow robe, making him look like a Chicken who might reside in Turkey. Although few fans are still around who can say they've actually seen The Magic Chicken, he used to frequent shows of The Aquabats, providing chicken and
Tang
to the hungry audience. On November 18th, 2008, The Magic Chicken made an appearance at The Trocadero when the band played the song. He threw out Potato Chips to the crowd.
Though it is not known why the song about The Magic Chicken would focus so heavily on the act of eating chicken, he does not seem to have a problem with people enjoying the less magic specimens of his species. The song entitled Magic Chicken! is a popular song from The Fury of The Aquabats, and has made young and old alike yearn for Roscoes Chicken and Waffles.
Magic chicken! is the 3rd track of The Aquabats! release The Fury of the Aquabats!.
I was born out back
Behind the chicken shack
I was raised in a cardboard box
And before when I was single
I used to hear the chicken jingle
That's how I learned the chicken rock
When I'm in the mood, dude
I get some nuggets and stuff
And head on down to the fights
I'm rolling in my wheelchair
Zipping down the hill
I'm screaming out chicken
In the middle of the night
(chorus)
Ooh ooh, ooh ooh
Chicken makes me feel so good <x4>
When I first met my baby
I was sipping chicken gravy
And I thought I had to close up shop
(weee pang!)
Now were wedding in a chapel
Eating chicken, drinking Snapple
Our chicken love you just cant stop
When I'm done a working
A sweating and a jerking,
And the bossman comes and tells me when
Im going home to baby
Got my chicken, got my gravy
And we do the chicken dance again
(chorus)
Do the popcorn chicken
(do the popcorn chicken)
Do the k-f-c
(do the k-f-c)
Do the buffalo wing
(do the buffalo wing)
Do the pioneer
(do the pioneer)
Can you dig it?
We got the chicken!
Cut it up, cut it up, cut it up
We got some chicken guts
In a chicken cup!
I'm a chicken ma-chine!!!
(x4)
Roscoes
We got the chicken!
Goldenbasket
We got the chicken!
Popeye's
We got the chicken!
Pappy Parkers
We got the chicken!.
(chorus)
Live Videos
Edit
1998, Lawrence, KS:

Community content is available under
CC-BY-SA
unless otherwise noted.