On September 26th, 2008 the Aquabats ventured out to the high desert where they had not played in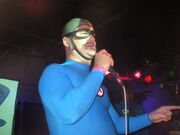 some time. The Karma in Victorville CA hosted them as well as Supernova, and Orange County ska band Half Past Two. Chainsaw played for Supernova but did not play with the Aquabats. (He did however briefly appear on stage with them as the "Mayor" of the city.) After the show, the venue promptly turned into a night club.
Giant Robot Birdhead
Stuck In A Movie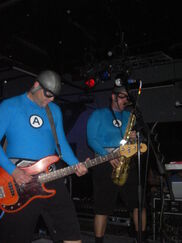 Lovers of Loving Love
Martian Girl
Look at Me, I'm a Winner
Super Rad
CD Repo Man
Tiger Rider vs. The Time Sprinkler
Red Sweater
Pizza Day
Pool Party
-encore
Fashion Zombies
The villain of the night was a dancing owl who challenges the Commander to a dance contest. As the contest turns into a fight, the owl loses and gets thrown into the crowd. A fun fact about this villain is that it was played by none other than the Aquabat's manager Nate who usually stays behind the scenes. Way to take one for the team, Nate.
Community content is available under
CC-BY-SA
unless otherwise noted.