The Aquabats played their Holiday show for Los Angeles on December 18th, 2009 at the Henry Fonda Theatre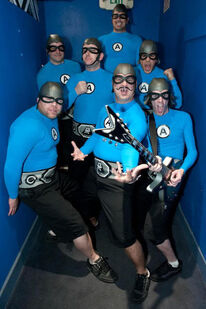 in Hollywood, CA. The opening bands were Supernova and Buck O Nine. Chainsaw and Catboy played this show. The band ended the show by covering "
Holiday Road
," a 1983 song by Fleetwood Mac's Lindsey Buckingham, known for it's appearence in National Lampoon's
Vacation
As fans left, free CDs were passed out featuring a studio recording of the cover and an original holiday song entitled
Santa Claus' Party
. Both songs were later released for free on the Aquabats website and can be found on YouTube:
Holiday Road
&
Santa Claus' Party
Danger Woman!
Stuck in a Movie!
Super Rad!
Red Sweater!
Pizza Day!
Hot Summer Nights (Won't Last Forever)!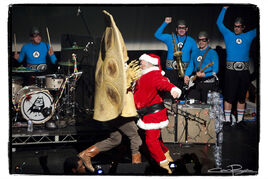 Tiger Rider Vs. The Time Sprinkler!
Attacked by Snakes!
Cat With 2 Heads!
Look at Me, I'm a Winner!
Captain Hampton and the Midget Pirates!
Pool Party!
-encore
Fashion Zombies!
Holiday Road!
Thanks to the help of Catboy, the Aquabats belt out a rarity, Attacked by Snakes.
Community content is available under
CC-BY-SA
unless otherwise noted.