Opening Bands
Edit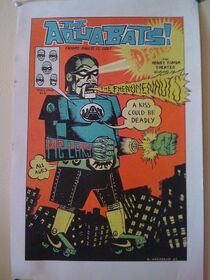 The Phenomenauts
MC Lars
A Kiss Could Be Deadly
Fashion Zombies
Martian Girl
Lovers of Loving Love
Super Rad
Nerd Alert
CD Repo Man
-Cobraman attacks
High-5 City
Yo Check Out This Ride
-A wild swamp man attacks. Hundreds of ball pit type colored balls are dumped into the audience from the balcony to be thrown at him to defeat him.
Pizza Day
Hello, Goodnight
Awesome Forces
(Encore)
Look At Me, I'm a Winner
Pool Party
Random Tidbits
Edit
The merch booth at this show accepted credit card. There was no one in that line.
The band had a poll for which song fans most wanted to hear at this show by submitting an email, thus, Yo Check Out This Ride was a rare treat for this crowd.
A very rare performance of Yo Check Out This Ride! It is believed to be the last time it was ever played.
Community content is available under
CC-BY-SA
unless otherwise noted.