Henry Fonda Theater 2/11/11

Opening Bands

Line-up

The Aquabats played their February 11, 2011 concert at the Henry Fonda Theater in Los Angeles, California. It was the band's first Californian performance since their December 19, 2009 show at the San Diego House of Blues, perhaps the longest stretch of time between So Cal appearances, excluding The Aquabats' appearance with Yo Gabba Gabba! Live! This show was more or less the unofficial release party for Hi-Five Soup, and was the first California show to feature the Aquabats' new purple rashguards.
Chainsaw the Prince of Karate accompanied the band for this show.
Setlist and order of events
[
edit
|
edit source
]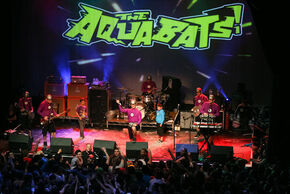 Martian Girl!
Nerd Alert!
Pizza Day!
Radio Down!
Poppin' A Wheelie!
Hey Homies!
Giant Robot-Birdhead!
Lovers Of Loving Love!
In My Dreams!
Villain fight
Look at Me (I'm a Winner)!
Super Rad!
Hello, Good Night!

Fashion Zombies!
The Shark Fighter!
Cover: "Minor Threat" by Minor Threat
Pool floatie race
Pool Party!
The concert featured only one villain fight, consisting of the two "pothead" aliens from the Ghost Battle video under the command of an unnamed man in a Hazmat suit. As the aliens silently spun around, the equally silent gas man released "mind control gas" from the side of the stage which prompted the Commander lie down and openly question whether or not he should just quit the band. A collective crowd chant of "AQUA-BATS! AQUA-BATS!" quickly revived him and a fight scene ensued, which featured stunts including MCBC spraying all three down with a fire extinguisher and smashing a dummy cinder block over one of their heads. There was a moment in the battle where everybody slowed down and started fighting in slow-motion.
Ad-libbed line during "Nerd Alert": "So get stupid on your time / Keep the Black-Eyed Peas out of the Super Bowl!" (a reference to the previous week's Super Bowl XLV, which featured the Black-Eyed Peas as a halftime guest).
"Fashion Zombies!" was opened with MCBC spraying the audience with a fire extinguisher.
For the pool floatie races, The Aquabats requested two children be brought up on stage but instead three children were delivered. The tallest child, who was wearing a Minor Threat shirt, was disqualified, but as a consolation prize, the band played "Minor Threat" in its entirety while he stagedived.
During the pool party, The Aquabats were accompanied by the floatie contestants, Koo Koo Kanga Roo dressed as ketchup and mustard containers, a girl in a grass hula skirt and Lance Robertson (in street clothes), among others.
The new show intro video and The Legend is True!: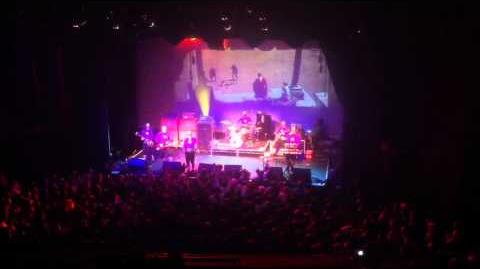 Community content is available under
CC-BY-SA
unless otherwise noted.