The Aquabats played the Glasshouse in Pomona on Spetember 12th, 2009. Opening bands were The Action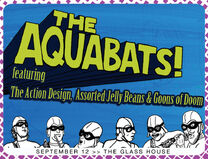 Design, Assorted Jellybeans, and Goons of Doom. The Aquabats' set was very sepcial because they featured appearances by Catboy and Chainsaw, making them a 7-piece band which had not seen that many members on stage for a full show in a very long time. Other old time friends and foes included the Magic Chicken, who threw several dozen McDonalds Chicken McNuggets into the crowd during Magic Chicken, and the Powdered Milk Man. During the show, The Bat Commander and Chainsaw launched a candy-filled Plex pinata, that fans had brought to the show, into the crowd. During Pool Party, various kids came on stage and threw inflatable pool toys into the crowd.
Martian Girl!
Cat With 2 Heads!
Stuck in a Movie!
Pizza Day!
CD Repo Man!
Magic Chicken!
Sandyface!
Super Rad!
Powdered Milkman!
Lotto Fever!
Look at Me, I'm a Winner!
Waterslides!
-encore video (see below)
Fashion Zombies!
Pool Party!
Encore Video
Edit
The Aquabats leave the venue and take their places in the front of the tour bus, ready to travel to an Ice-capades show. However, the tour bus won't start. The Bat Commander tells Eaglebones to 'get out and push', which he happily does, while the others sit in the van. After a few moments, Jimmy suggests they all get out and push, which they do, after Jimmy realizes the hand brake is on and releases it, the van starts to roll forward. They hit into the side of a luxury car, whose alarm sets off. The Bat Commander then gets the idea to 'go back in inside and play another song!' which they cheerfully do.
The Aquabats added two unique songs to the setlist worth mentioning; Lotto Fever! as seen here, and Sandyface! as seen below;
Community content is available under
CC-BY-SA
unless otherwise noted.