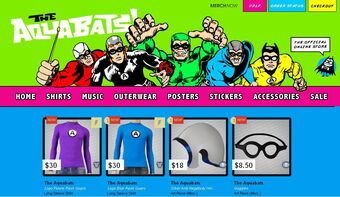 The Aquabats have sold a lot of merchandise since first starting out. T-shirts, posters, buttons, stickers, and even rings, wallets, stress-reducing toys, and the very costumes off their backs have gone up for sale through official website stores and record labels. The Aquabats also sell a wide variety of merchandise often exclusively at concerts and summits. Some of the best designs and even song inspirations have been placed on their t-shirt and poster designs.
The Aquabats currently sell some merchandise at shows, through Toddland, Kings Road Merch, Birthday Express, and on their official store operated by MerchNow. MerchNow also handled Aquacadets applications in the past.
Below is an archive of Aquabats merchandise and memorabilia.
Trending pages
All items (43)
Community content is available under
CC-BY-SA
unless otherwise noted.