CD Repo Man is the 9th track of The Aquabats! release The Return of the Aquabats.

Producer Jim Barnes shows off his trumpet playing abilities and plays the solo for the recording.
[Chorus]
CD Repo Man
He can go where I can't go
CD Repo Man
He'll infiltrate your stereo
CD Repo Man
He'll sneak up around the back
CD Repo Man
He'll get your CDs back
Some people who seem to
Call themselves my friends
Take my CDs
Then they all pretend
That they lost my music
But I've got a plan
To find the nearest pay phone and
Call the Repo Man
[Chorus]
When CD Repo Man
That guy is on a roll
He'll jump through windows
To get back what the suckers stole
He looks tame, but
You know he will attack
He does his job
To get your CDs back
[Chorus]
When your possessions are gone
And something is wrong
There is action to take
Don't call him unless you're really ticked
Because there is no escape
He wears a suit, it looks like he's strapped
Don't mess with him
Or you'll get smacked
Don't steal my CDs
That don't make no sense
Because a Repo Man is always intense!
Hey!
[Chorus]
Live Videos
Edit
1996, Las Vegas, NV:
2008, University of Southern California: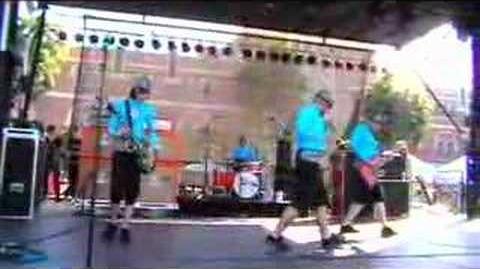 Community content is available under
CC-BY-SA
unless otherwise noted.