This is an archived Aquabats news update from TheAquabats.com
THE AQUABATS HOORAY FOR THE HOLIDAYS TOUR: HOORAY FOR POSTER CONTESTS CONTEST!
With all of the hope and change happening around the nation of the United States of America, it is fitting that the world's most mightiest American hope-changers THE AQUABATS would embark on a record setting and historical tour! That is right kiddies! This week the Aquabats depart for the 'Hooray for the Holidays' tour that will begin for the first time ever ...on the EAST COAST!!
Starting in Florida for three dates and then winding our way up the coast, the Aquabats are ready for the road with a dogged determination not seen since the war of independence. The Bat Commander had this to say: "We the Aquabats to form a more perfect Holiday tour must begin and end with the colonies that shaped this nation and showed King George where he could hang his Mistle Toe!!" FINALLY! A holiday tour to remember. Check out these dates and the battle plans ....just in time for the holidays! WAR FOR THE HOLIDAYS!! HOORAY!!

In another bold move of independence, the Aquabats have asked the legion of cadets and superfans to come up with their own posters for the upcoming shows!! Check out some of the revolutionary artists below!! Look at these! They are winners!!
November 13th - Clint Scott


November 17th - Nick Borkowicz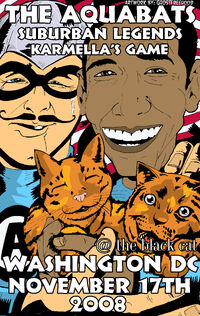 Congratulations to all our well-deserving winners! They've earned themselves a free ticket to the show they submitting their poster for where they can see their poster presented prominently on the main stage! HOW AWESOME!
Wait a second...were you about to ask who the winners of the December shows are? "What Ho Aquabats! Mine eyes have not been granted the gift that is a December show winning contest poster!" Well strangely speaking child, this is true. We've received SO many great entries for our December shows, we've decided to allow the kids to VOTE on our December contest entries and determine the winner of each date! Stay tuned to November 22nd, when the voting will begin!
Now, as we begin this historic journey we know not what lays ahead. Things may be difficult, times may get harder. But remember not to ask what the Aquabats can do for you, but what you can do for the Aquabats!!! Join us, our band of brothers... and wear a funny costume...it's more fun that way.
Peace out homeys!! We will see you soon, THE AQUABATS!
Community content is available under
CC-BY-SA
unless otherwise noted.