This is an archived Aquabats news update from TheAquabats.com
Monday, August 04, 2008. NEWS UPDATE: BOOM
Edit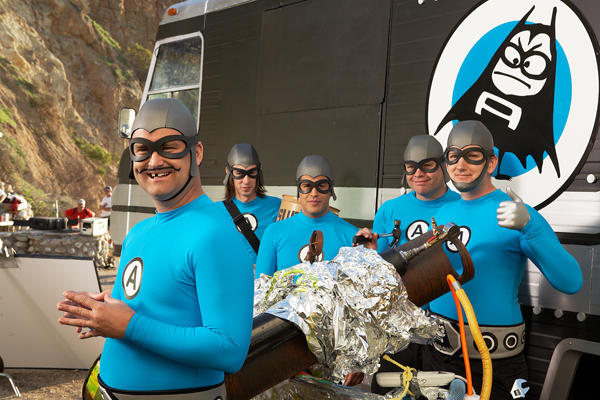 Greetings, kids!!
The Aquabats are back from a triumphant weekend to give you the latest scorching summer update! BOO YIZZLE!! On Friday night, we played an amazing show to a sold out crowd at the House Of Blues in San Diego---otherwise known as Comic-Con City, USA. WERD!! We were super pumped to have good buddies DJ Lance Rock and friends from Yo Gabba Gabba, and the MC Lars Group warm up the crowd. MC Lars even donned an official Aquabats! rash-guard during his set. PPTWANG!! After both insane permormances, we screened The Aquabats! Supershow TV Pilot Episode for the first time ever! AWESOME-NESS!
BUT WAIT!! what would an Aquabats! show be without some technical difficulties? The projector broke down in the middle of the pilot but the kids waited patiently for it to re-boot. The pilot went over like a pipe bomb! BOOM! Almost everyone liked it. There were a few people that left in disgust but that's because they COULDN'T HANDLE THE RADNESS.....'CUZ IT WAS SICK!!
Then after the screening we stormed the stage and no one seemed to mind when we proceeded to melt the faces of the super awesome crowd in radical and magical ways!! KABLAM!! It was totally awesome!
Now with the big weekend behind us, we, The Aquabats! will continue to plow through the flowing fields and arctic tundra of America this year! And we might even, stop to play some shows along the way!! WOAH-YEAH-YEAH!!!
Almost all of the east coast "Hooray for the Holidays" Tour 2008 shows have been confirmed, and once they are, we will announce the cities and dates. Our pals Suburban Legends are confirmed to be on all of the shows. More tubular bands will also be added. Speaking of tubular, The Aquabats! will again invade and conquer our home away from Aquabania, the Glasshouse in Pomona, California on Friday August 15th! Do anything you can not to miss this show which will also feature The Phenomenauts and Love You Long Time. Prizes will be awarded to the best costumes at the Glasshouse show!! So get dressing up!! And don't worry kids of the Inland Empire, we will be rescheduling our show in Victorville originally set for August 16 to September 26!!
ALSO !!! IN OTHER AWESOMENESS!!! This just in, kids---We have winners for both on-line contests! But we won't announce them until Friday, August 8th, so sit tight and stay tuned! Well, that's it for now!
Stay tuned for more exciting adventures with the AQUABATS!!!
Community content is available under
CC-BY-SA
unless otherwise noted.