Thursday, March 06, 2008. Finally!
Edit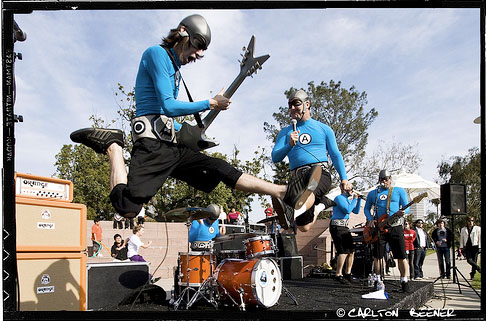 Long time no see, friends and foes! I bet you were worried out there...BUT YOU SHOULDN'T BE! BECAUSE WE ARE BACK! YEAH! And just in time to deliver some ASTOUNDING news!
We have been TUCKED AWAY in our hidden fortress for a good while now. But not hibernating! NO SIREEE! We've been hard at work on THE AQUABATS SUPER SHOW TV PILOT! WOAH YEAH YEAH! The good news is that it is almost done! HOORAY!
Speaking of HOORAY! THE AQUABATS will be teaming up with Supernova to play a show at the CANYON CLUB in Augora Hills, CA on March 14th! CLICK HERE FOR TICKETS! But there is a catch -- WE NEED YOUR HELP! We are having an OFFICIAL FLYER CONTEST for the Canyon Club show! Design a gnar-shredding flyer for the upcoming show on the 14th and send it to THE AQUABATS OFFICIAL MYSPACE! Then we will choose the raddest flyer and showcase it on the official myspace and right here on the official site! But hurry, we are only accepting submissions till the 10th! The winner gets 2 tickets to the show or a free t-shirt, and second place gets a free t-shirt too! HOORAY!
In other HOORAY related news, THE AQUABATS will be playing in San Diego around the time of revered holiday known as Comic-Con! EEEEWOOO!!! More details soon!
HEY! BIG NEWS! From what we hear, our secret sources tell us that there is perhaps possibly a slight chance of the 2008 CADET SUMMIT a-brewin. AND WHEN WE SAY A-BREWIN, WE MEAN A-BREWIN. But keep it on the DL! We don't want to injure anyone that may mentally try to challenge the possibilites!
Speaking of cadets! Many of you have probably noticed that cadet membership kits have VANISHED. Perhaps it was Cobra Man, or perhaps not...I am just saying. EITHER WAY there is an ALL NEW CADET KIT on its way with a new shirt, a "technological" Welcome D-V-D (it's a new form of video tapes) and more! Keep on your toes, you will never know when that hits. BUT WE WILL!
KEEP ON KEEPIN ON, INTERNET! EEEEEEE-WOOOO!!!
Love,
THE AQUABATS!
Community content is available under
CC-BY-SA
unless otherwise noted.