This is an archived Aquabats news update from TheAquabats.com
NEWS UPDATE: THANKSGIVING IS COMING...AND SO ARE ......THE AQUABATS!!
Edit
Great news for all kids!! The Aquabats' 30th Annual Holiday BONANZA! is almost here. The Aquabats have been drinking diet shakes and stair-stepping thier chubby little legs off to get ready for this historical event!! Joining us for these amazing shows is Hunter from AFI's revenge project...HUNTER'S REVENGE!! Hunter's Revenge is so rad you may pass out from radness. Then as if that wasn't enough, the star of pre-school televison's newest bestest show, YO GABBA GABBA, DJ LANCE ROCK will be opening the show with some rad music and dancing for everyone!! Lets all get down!!! Bring your dancey dancing shoes!! Click here for all of the tour dates for the Holiday Bonanza 2007!! It's gonna be awesome!! Get tickets will they still have 'em!!
In other good news!! The Aquabats have begun pre-production on a new pilot for the long awaited ill-fabled televison show! This new pilot should be done by the first of the year and will hopefully be shown in trailer form by early 2008. It has been a long time coming but maybe this time something may happen!
If anything happens for sure in 2008 it will be the new Aquabats album being finished up as we speak. It has taken a back seat to a few other things lately but The Aquabats will be back in the saddle in no time! YEEE HAAAWWW!!
Speaking of new stuff...check out this new merch for sale at the new shows and soon to be on sale through the Aquabats' online store!!! CHECK IT!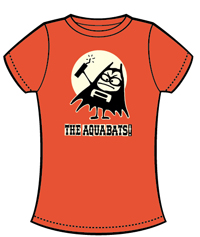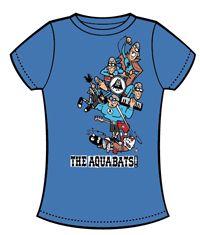 Be the only kid who likes the Aquabats at your school!! Don't fit in with all those other fashion zombies!! Wear the Aquabats tees and accessories!! NERD POWER!!! Speaking of awesome nerds! Here are some great pics of kids dressed like the Aquabats for Halloween or not for any particular reason!

The Aquabats army is the greatest in the world!! Look at us!! WE ARE WINNERS!! At this point!! We say Happy Halloween and Happy Thanksgiving to all and dont miss our shows coming up...they may be the last shows....ever....for this year.....ever.
Love,
The Aquabats!!
Community content is available under
CC-BY-SA
unless otherwise noted.