This is an archived Aquabats news update from TheAquabats.com
A SAD DAY AND THE END OF AN ERA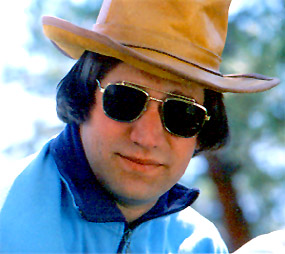 Newport Beach, CA On Friday, December 8th, It was officially announced from the stage at the Glasshouse in Pomona, California, that Chainsaw, Prince of Karate will be retiring to obscurity by the end of this year.
This comes as a shock to many, including his old pals, The Aquabats. Chainsaw, who has been with The Aquabats since the beginning, just couldn't explain why he wanted out, but said "It was just time." Chainsaw is currently attending business college, and has been very burdened by his studies and under too much stress to acheive acedemic success. Some speculate that this is part of the reason for his premature retirement wishes.
According to Chainsaw, who plans to leave the bat race and join the rat race, this will be a very difficult departure, as he still loves being a key member of The Aquabats and will miss the loyal Aquacadets and other fans. The remaining Aquabats with heavy hearts must respect his decision to leave. However, the band is doing their best to convince him to stay.
Chainsaw's farewell show will be played on the 22nd of December at The Vandals X-mas Formal in Anaheim, California. See Tourdates for more info. The Bat Commander, who has been doing his best to thwart Chainsaw's plans of a secure future and to stay in the band, would like to encourage all Aquacadets and fans to do their best to make Chainsaw come to his senses and remain with his homeboys, The Aquabats.
Community content is available under
CC-BY-SA
unless otherwise noted.